Centralized and Secure Access Portal
Lighthouse serves as the centralized and secure portal for the Opengear platform. As the starting point, Lighthouse provides a unified display to deploy, manage, and remediate Opengear appliances and other physical and virtual connected resources. It simplifies remote access. Configuration entities are available in the API
Lighthouse Enhances the Opengear Solution
For network professionals who are looking to gain efficiencies and effortlessly manage network and out of band infrastructure, Lighthouse delivers simplified deployment, streamlined management, and expedited access.
Unlike manual methods that can result in data integrity and efficiency issues, Lighthouse enables centralized provisioning, delivers source of truth, and provides scale.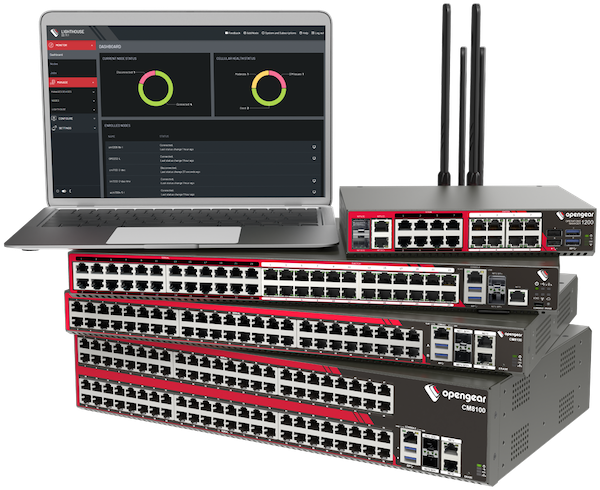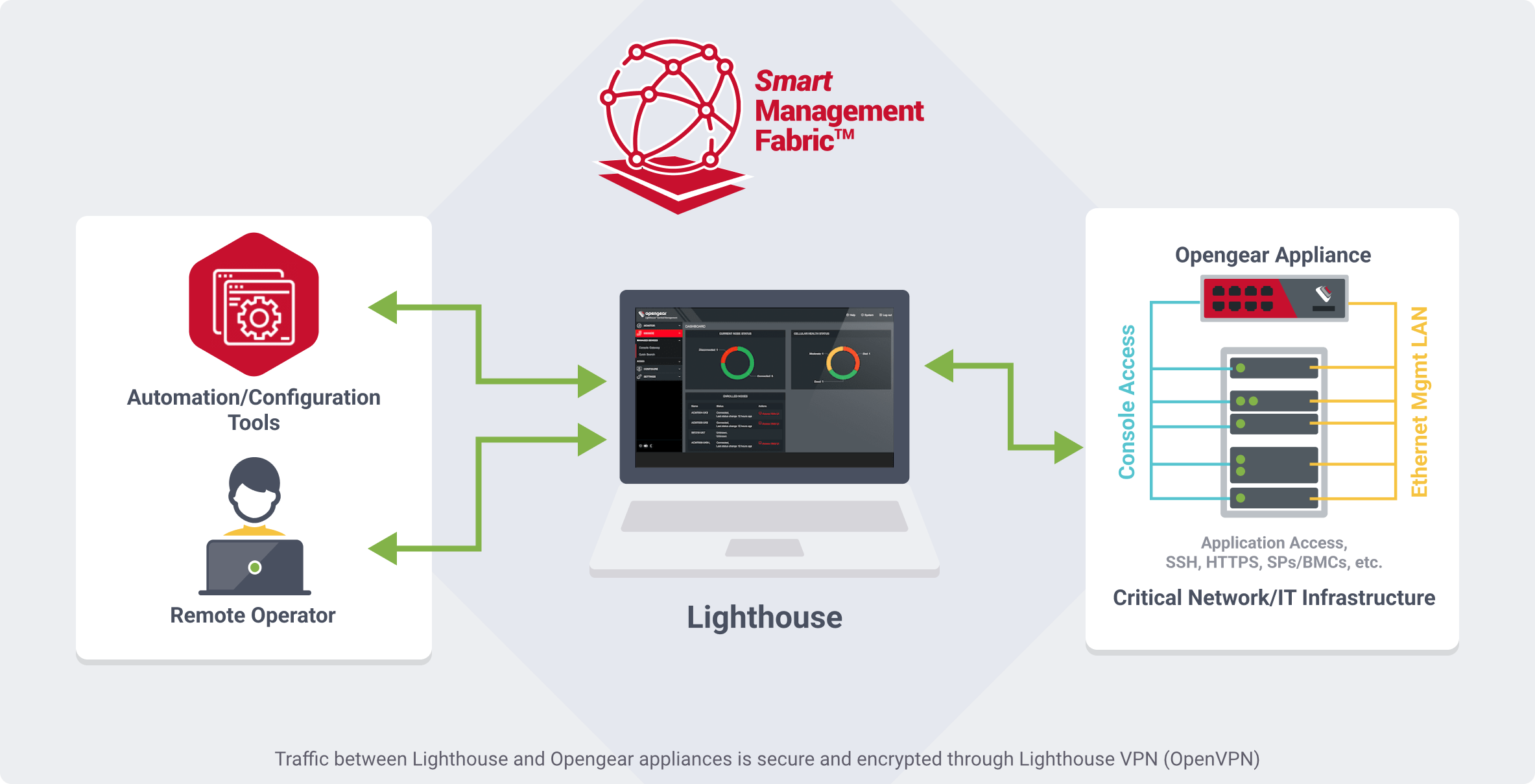 Benefits:
Simplified deployment
Enroll, remove, and streamline the configuration of your connected physical and virtual resources securely.
Deploying and configuring devices can be time-consuming and prone to human errors. Save time and money with remote configuration. Instead of scheduling 3rd party resources to configure your Opengear appliances, use Lighthouse.
Streamlined management
Become the "source of truth" for connected resources by provisioning them on day 0/1 and then tracking updates and changes.
Network professionals look for new ways to save time and avoid repetitive tasks when managing their network infrastructure assets.With Lighthouse, you can enable aggregation and reduce the time needed to perform administrative tasks.
Expedited access
Lighthouse is a resilient path for all your connected endpoints for quick access.
Spend more time on strategic projects or critical IT priorities. Access a device quickly and get on with your day when disruption occurs. As a secure access portal, Lighthouse delivers a complete view and access to your connected physical and virtual resources. Use Lighthouse to expedite access for audits, restoration, and operation management.
Subscription Details
Lighthouse Enterprise
Lighthouse Enterprise: Automation Edition
1 year Subscription
3 year Subscription
1 year Subscription
3 year Subscription
Number of Nodes
ENTLH-STARTUP-1Y
ENTLH-STARTUP-3Y
AE-ENTLH-STARTUP-1Y
AE-ENTLH-STARTUP-3Y
Up to 10
ENTLH-SMALL-1Y
ENTLH-SMALL-3Y
AE-ENTLH-SMALL-1Y
AE-ENTLH-SMALL-3Y
Up to 25
ENTLH-SCALEUP-1Y
ENTLH-SCALEUP-3Y
AE-ENTLH-SCALEUP-1Y
AE-ENTLH-SCALEUP-3Y
Up to 50
ENTLH-LARGE-1Y
ENTLH-LARGE-3Y
AE-ENTLH-LARGE-1Y
AE-ENTLH-LARGE-3Y
Up to 100
ENTLH-XLARGE-1Y
ENTLH-XLARGE-3Y
AE-ENTLH-XLARGE-1Y
AE-ENTLH-XLARGE-3Y
Up to 250
ENTLH-MEGA-1Y
ENTLH-MEGA-3Y
AE-ENTLH-MEGA-1Y
AE-ENTLH-MEGA-3Y
Up to 500
ENTLH-GIGA-1Y
ENTLH-GIGA-3Y
AE-ENTLH-GIGA-1Y
AE-ENTLH-GIGA-3Y
Up to 1,500
ENTLH-MAX-1Y
ENTLH-MAX-3Y
AE-ENTLH-MAX-1Y
AE-ENTLH-MAX-3Y
Up to 5,000
Subscription Based
The new Lighthouse licensing model provides better customer experience, streamlined purchasing, and flexible consumption. With the new model, you can choose between multiple packs of licenses for the managed nodes based on the size and needs of your infrastructure.
Ready to learn more?